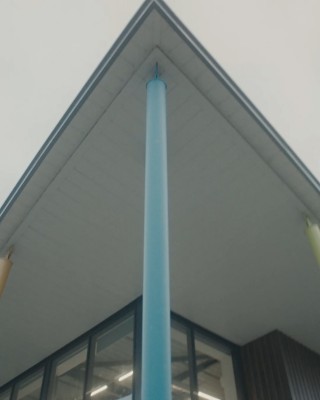 Our Charity Partnership
Burberry Supports OnSide
Beginning a long-term partnership between the Burberry Foundation and OnSide, a British charity empowering young people to broaden their potential, this year Burberry is supporting the organisation's Youth Zones and the OnSide Network Winter Hunger Appeal, which will ensure free admission and food over the winter.

Inspired by the community spirit of our founder Thomas Burberry, the partnership will ensure that young people in the most economically disadvantaged areas of the UK can come together in safe, nurturing and inspiring spaces. We visited the Future Youth Zone in Dagenham, London, to hear stories from the young people these spaces impact most.
In Dagenham, east London, tucked just behind the trees of Parsloes Park, is the Future Youth Zone: a brightly glowing, neon-lit youth hub that was designed by the young people it supports. Three years ago, the British youth charity OnSide enlisted a local committee to advise them on what was needed and wanted here as part of its growing network of centres – a telling example of the organisation's commitment to young people.

For 52 weeks of the year, in the evenings and at weekends, members of this Youth Zone bounce between rooms offering everything from music and film production to indoor rock climbing, martial arts, crafts, fashion, dance and much more. In the middle of the space, a communal rec area hums with the constant coming and going of young people of all ages, backgrounds and personalities.

Diversity is what makes the Future Youth Zone so special. There's family here, where older members encourage younger members, and where the most unlikely of friendships are made – and kept. It's an inclusive space, designed for everyone.
On Sundays, the Futurebility Inclusion Club enables members with additional needs to take part in activities adapted to their different abilities. In the self-care space UrCare – equipped with styling tools and beauty products – the LGBTQ+ group UrIdentity provides guidance to whoever seeks support. Hazel is one member who has found comfort and enjoyment from learning about queer history and the importance of wellbeing.

The stories that emerge here are heart-warming and full of authenticity. The members are its priority and driving force – they are its beating heart, and it shows.

The space is staffed by youth workers, a humble army of artists, musicians, producers, chefs, boxers and teachers. Many of them grew up attending youth centres like this one, and have come full circle on their journey, like Chris, the Junior and Holiday Club Manager.

Chis attributes his passion for youth work to his own experience, and guidance he received from one youth worker in particular when he was young. It's a perfect example of how the relationships that are built here make a difference.
Throughout the youth hub, each worker shares their expertise in specially designated rooms. Members can explore their creativity and receive guidance and tuition, while being exposed to professional pathways that might have previously seemed out of reach – or unimaginable.

In the music studio, UrBeats – full of drums, keyboards, guitars, microphones, and an elite mixing console – a member eagerly plays a track which has been co-written and produced with Clinton, a youth worker with a background in music. When it's ready, they plan to send it to a record label or release it independently – an achievable goal, thanks to Future Youth Zone.

In the UrProduction room, members are encouraged to learn filmmaking. We meet one who has discovered a love of acting and now hopes to go to drama school. This sort of story is common throughout the centre. In the boxing and martial arts room, we meet another who uncovered her skills after being encouraged to take an introductory class run by a local gym. She is now continuing her boxing journey, with newfound ambition.
Across the hall, you can find members broadening their potential at homework support sessions run by a youth worker who is also a local teacher. The centre also offers a writing programme, in partnership with another local charity, that encourages young people to tell their stories. Their work is often published.

The youth space has achieved a tremendous amount in just three years. But it can't survive solely on the £5 annual membership fee or 50p activity fee – or the £1 it charges for hot dinners (often waived by kind staff who recognise that not everyone can afford such extras). The hub relies on the support of patrons, trusts and community fundraising. And, sometimes, on the efforts of members themselves.

These members include Archie, a 17-year-old Young Leader, who started hosting roller-skating sessions – a hobby he was introduced to by one of the youth workers. When confronted with the problem that there were not enough boots for the whole class, he began to source funding from local businesses. It's worth noting that when Archie joined Future, he was quite an anxious character. Now, he dreams of owning his own clothing brand and giving back to his community by becoming a youth worker himself.

It's another incredible story of how youth spaces like Future inspire and enable young people to unlock their potential – and it's stories like these that show why OnSide's mission to develop more Youth Zones in communities across the country is so important.

Because this is OnSide's mission coming to life: visibility really does nurture creativity.